Core Management Team

Mr. TRINH TAN LUC
Position: General Director
Experience:
Mr. Luc has been working as a General Director of TCSC from early August 2017. Before been appointed to General Director, Mr. Luc has experienced in variety of managerial positions, including managing the processes, regulations, legislation, monitoring the compliance with the provisions of Company's departments. Luc joined TCSC in Feb 2008 with over 12 years' work experience, in which 3 years working in Hualon Corporation Vietnam, over 3 years as the System quality management Specialist and the Head of Mechanical section of dye house at Thanhcong Textile JSC. He is as a Head of SOP, Compliance & Legal from 2/2008. In May 2013, he is also appointed to be the secretary of the Company and hold this position until now. Mr. Luc has a Bachelor of Industrial Management at the University of Technology HCMC, a Bachelor of Laws at the Open University HCMC and a Master Degree in Finance – Banking at the Open University HCMC.

Ms. NGUYEN THI PHUONG THAO
Position: Finance Director
Experience:
Updating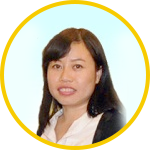 Ms. TRAN THI THUY LAN
Position: Chief Accountant
Experience:
Thuy Lan is responsible for operating and handling the accounting and financial operations arising in Company's business, in accordance with the State's provisions and Company's Regulation on financial management.

Thuy Lan joined TCSC in 7/2010 and has become Chief Accountant from 1/2016, she used to hold equivalent position at Dat Sang Tao Ltd. Company for over 2 years and in charge of accounting department for two companies in the construction sector a few years earlier.

She holds a Bachelor of Business in Accounting at Hoa Sen University.